Fifth Leg
SHARJAH – AHMADABAD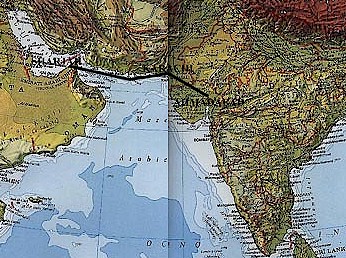 LEG REPORT
1st Part
FROM: Sharjah – TO: Karachi (Pakistan)
DATE OF DEP.: 03/03/98 – ATD(z): 04:54 – ATA(z): 09:24
TIME ENR.: 4h 30′ – LENGHT(NM): 638 – AVG.GS: 141 kts – FL: 090
ROUTING: Kanas, Jiwani, Latem, Opck.
WEATHER ENR.: No clouds up to Jiwani. Past Jiwani rain and thunderstorm (Full IMC).
WEATHER AT DEST.: 180°/6 k, scattered at 3000 ft, visibility 4000 mt in smoke and haze.
PREV.WIND ENR.: 270°/40 k
NOTES: Thanks to the jetstream this leg was also a rather quick one. Unfortunately at Siwani the weather turned into the worst experiences so far. More than two hours in heavy rain, full IMC and CB'S here and there (lightning enclosed!). Last 1h 30′ flown at 500′ over the sea avoiding showers.
2nd Part
FROM: Karachi – TO: Ahmadabad (India)
DATE OF DEP.: 03/03/98 – ATD(z): 13:25 – ATA(z): 16:15
TIME RNR.: 2h 50′ – LENGHT(NM): 321 – AVG.GS: 115 kts – FL: 090
ROUTING: Opck, Dangi, Telem, Sogar, Vasla, Uaah
WEATHER ENR.: Layers at 3000 ft up to 5000 ft.
WEATHER AT DEST.: wind 230°/6 k, scattered at 8000 ft, visibility 3000 mt in haze
PREV. WIND ENR.: 180°/ 20 k
NOTES: This was a perfect example of airport rip-off. The Karachi airport is populated by handling agents "offering" to expedite all the necessary paperwork. After 4 hours on the ground we have been forced (pay or don't go) to pay 250 USD to "Shaeen airport services" and thereafter we obtained our start-up clearance! The rest of the flight went uneventful, except that it is not nice to fly at night over a deserted lakes territory in a single engine. Last thing to mention: today we have been flying for almost 1000 NM (1850 km)!