Fourteenth Leg
MELBOURNE – SYDNEY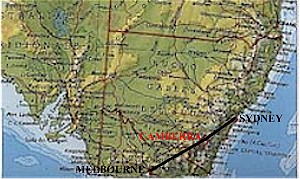 LEG REPORT
1st Part
FROM: Melbourne – TO: Camberra (Australia)
DATE OF DEP.: 12/03/98 – ATD(z): 22:17 – ATA(z): 00:23 (13/3/98)
TIME ENR.: 2h 06′ – LENGHT(NM): 260 – AVG.GS: 124 kts- FL: 4500 ft
ROUTING: YMMB, Glenburn, Eildon Weir, Mansfield, Corryong, YSCB.
WEATHER ENR.: Broken altocumulus and stratocumulus at 9000 ft. Clear air turbulance.
WEATHER AT DEST.: Cavok, wind 350°/10 k, temperature 38 °C.
PREV.WIND ENR.: 350°/15 k
NOTES: This was a sort of competition between us and a front moving north-east. We overtake it while flying and it reaches us again overnight. A bit bumpy but full VMC and not so bad. The pleasant event in this flight is the hospitality received by italian military attacheè, col. Walter Mauloni. After picking us up at the airport he suddenly changed his mind on the restaurant where he intended to take us, and rang his wife Rossella instead. With only 10 minutes prior notice she prepared such a delicious and true italian meal….brava Rossella!! Many thanks to M/llo Stafano Pavoloni for his kind assistance too.
2nd Part
FROM: Camberra – TO: Sydney (Australia)
DATE OF DEP.: 13/03/98 – ATD(z): 03:34 – ATA(z): 04:34
TIME RNR.: 1h 00′ – LENGHT(NM): 122 – AVG.GS: 122 kts – FL: 4500 ft
ROUTING: YSCB direct to YSBK.
WEATHER ENR.: Scattered altocumulus at 10000 ft, clear air turbulence.
WEATHER AT DEST.: Cavok, wind 310°/15-20 k.
PREV. WIND ENR.: Wind 330°/15 k
NOTES: Very bumpy! We had our g-meter ranging 2.5-1.2 during this leg. A bunch of journalists ("SBS" everywhere, as well as the italian paper "La Fiamma") and aviation enthusiasts were waiting us in Sydney. For all this we have to thank Mrs Rossella Bellini of the italian Consulate. What a nice person and effective organizer! Mr Roberto Ferro was also very helpful towards us. We are now facing the "Pond Crossing": tomorrow we will fly to Norfolk Island and the next day, hopefully, to our final destination. Thanks Jerry for your nice hospitality and support.