Tenth Leg
BALI – DARWIN
LEG REPORT
1st Part

FROM: Bali – TO: Kupang/El Tari (Indonesia)
DATE OF DEP.: 09/03/98 – ATD(z): 02:16 – ATA(z): 06:25
TIME ENR.: 4h 09′ – LENGHT(NM): 510 – AVG.GS: 124 kts- FL: 7500 ft
ROUTING: Wiih, Gomat, Waingapu, Wrkk.
WEATHER ENR.: Scattered cumulus at 2000 ft. CB's inland the islands.
WEATHER AT DEST.: Wind 070°/10 k
PREV.WIND ENR.: calm
NOTES: Too bad! We departed "paradise on earth" Bali with no even a minute to visit the luxorious pool of the resort. These islands sure offer a gorgious view from the aircraft, and those kind Indonesian sure deserve a better general situation in their country. We also appointed our friend Dude as best handling agent of the whole trip. Keep it up Dude!
2nd Part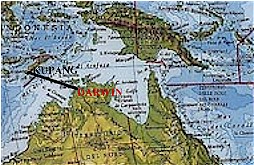 FROM: Kupang – TO: Darwin (Australia)
DATE OF DEP.: 09/03/98 – ATD(z): 07:44 – ATA(z): 11:40
TIME RNR.: 3h 56′ – LENGHT(NM): 445 – AVG.GS: 113 kts – FL: 095
ROUTING: Wrkk, Alebo, Belki, Ypdn.
WEATHER ENR.: Past Alebo broken stratocumulus from 7500 ft up to FL 130, embedded CB's.
WEATHER AT DEST.: Cavok, visibility 9999 mt, wind calm (visual app RWY 29)
PREV. WIND ENR.: Wind 200°/15 k
NOTES: Quick! Quick! After a snappy meal in El Tari We made one of the last "Sea Hop" in this raid. 445 NM to Darwin with our usual night time approach. Weather certainly not perfect, with several portions of unavoidableIMC plus rain. However what counts is that we are in Australia now.