Eighth Leg
U-TAPAO – SINGAPORE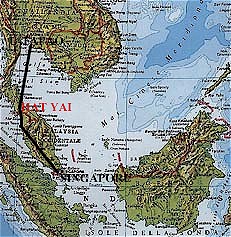 LEG REPORT
1st Part
FROM: U-Tapao – TO: Hat Yai (Thailand)
DATE OF DEP.: 06/03/98 – ATD(z): 03:13 – ATA(z): 06:49
TIME ENR.: 3h 20′ – LENGHT(NM): 351 – AVG.GS: 106 kts- FL: 4000 ft
ROUTING: U-Tapao, Regos, Dirax, Relip, Utss.
WEATHER ENR.: Broken cumulus at 3500′
WEATHER AT DEST.: Scattered at 3000′, visibility 8000, wind 200°/12 k
PREV.WIND ENR.: 170°/25 k
NOTES: Whole leg flown over the sea between 2000 and 4000 ft, depending on the clouds. Flying a single engine over the seas populated by sharks may be considered dangerous, but we are hungrier than they are! Willing to loose weight? Come flying with us! Uneventful arrival at Hat Yai international, a bit tired due to the headwind that gave us such a low ground speed.
2nd Part
FROM: Hat Yai – TO: Singapore Seletar
DATE OF DEP.: 06/03/98 – ATD(z): 07:55 – ATA(z): 11:39
TIME RNR.: 4h 44′ – LENGHT(NM): 458 – AVG.GS: 97 – FL: 070
ROUTING: Vtss, Alor Setar, Penang, Batu Arang, Johor Bahru, Wssl.
WEATHER ENR.: Broken cumulus at 7000 ft with isolated CB's
WEATHER AT DEST.: Wind 150°/15 k
PREV. WIND ENR.: Wind 250°/20 k
NOTES: Headwind stronger, but we had to get to Singapore. Our sponsor "Eles" organized a fabulous reception and dinner at the 77th floor of the Westin hotel. People warm, friendly and highly professional. Thanks to Rosita, Roberto, Paolo and the friendly officers of the Singapore's youth flying club and flying instructors of the Singapore flying college. Thanks to them for the first time on the trip the ZK-JJJ sleeps in a hangar. Also we wish to remind that we are now roughly half-way and very close to the equator. Thanks Antonio and ciao!