Fifteenth Leg
SYDNEY – NORFOLK ISLAND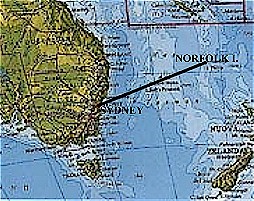 LEG REPORT
FROM: Sydney – TO: Norfolk Island (Australia)
DATE OF DEP.: 14/03/98 – ATD(z): 00:52 – ATA(z): 07:25
TIME ENR.: 6h 33′ – LENGHT(MN): 910 – AVG.GS 139 kts – FL: 9500 ft
ROUTING: Sydney direct to YSNF.
WEATHER ENR.: Scattered cumulus at 2500 ft, scattered altostratus at 12000 ft
WEATHER AT DEST.: Cavok, wind 210°/10 k
PREV. WIND ENR.: 310°/25 k
NOTES: Today we have had the shortest and the longest flight in the whole raid. First we discovered that we had to fly the aircraft from Sydney Bankstown to Sydney "Kingsford Smith International" for customs purposes: that was a 10 NM flight! Then we took off to Norfolk Island: 910 NM, 900 of which flown on the pacific ocean. At dusk we reached this beautiful island discovered in 1774 by captain James Cook. Later on it became home for the bounty's mutineers. People at the airport was not very accustomed at seeing small single engine here. Well friends we are getting closer to the end of the flight. One more leap…till tomorrow!