Eleventh Leg
DARWIN – ALICE SPRINGS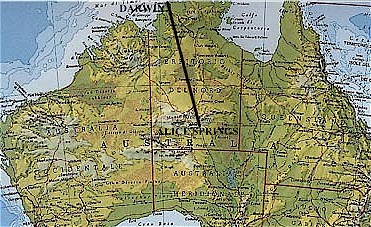 LEG REPORT
FROM: Darwin – TO: Alice Springs (Australia)
DATE OF DEP.: 10/03/98 – ATD(z): 01:49 – ATA(z): 07:53
TIME ENR.: 6h 04′ – LENGHT(MN): 705 – AVG.GS 118 kts – FL: 7500 ft
ROUTING: Ypdn, Iskux, Opebu, Swyer, Ybas.
WEATHER ENR.: Scattered cumulus at 7000 ft
WEATHER AT DEST.: Cavok, wind calm, temp 38 °C
PREV. WIND ENR.: 120°/15 k
NOTES: Wow! This country is huge! Our longest leg in the raid (705 NM = 1305 km) brought us to Alice Springs. Hundreds of miles over the hot "outback" desert with no sign of life in sight. We had some fun trying to dolphin from a cumulus to another, seeking for updraft. Thanks to Alice Springs friends Murray and his son for their kindness and help.